Baxter's Buttermilk Biscuits
The Triple B
These biscuits have a golden brown, flaky bottom crust as well as a flaky top crust… every time!
Get the butter… eat em up!
Tips for making biscuits:
Don't handle them too much.
When you cut the butter in, you want to see it (the butter) still after you're done. Use your fingers to mix with the flour to get the chunks a bit smaller. Once you add the buttermilk (I recommend you use the real stuff, not a substitute mix of vinegar and milk. I think it's worth it for the creamy texture buttermilk has.)
When you cut the circles out, press down once.
****Do not twist the cutter after you cut the circle****
When you do that, you are sealing off the edges and it won't be as flaky or rise as high.
When you arrange these biscuits in the pan put them close together so they touch each other. That traps the steam and helps them rise.
I have used Crisco Oil and Butter on the bottom of a 10″ Cast Iron pan (or griddle.. actually like using the 10″ griddle better). Same result for both. Crusty and golden brown. Seems there is so much butter in there already, you might as well use butter on the pan.
I DO preheat the pan. (But you don't have to, but you won't have as crusty of a bottom if you don't preheat.)
Be careful taking the preheated pan out of the oven. You'll need more than a normal oven mitt. Extremely hot handle.
See Baxter's Buttermilk Biscuits.
No Buttermilk?
https://www.momontimeout.com/perfect-biscuits-every-time-recipe/
Ingredients
2 1/2 cups all-purpose flour plus more for dusting
2 tablespoons baking powder
1 teaspoon sugar
1 teaspoon salt
8 tablespoons cold unsalted butter (I use salted butter) FYI 8 TBSP is 1/2 cup butter.
1 cup buttermilk
2 tablespoon salted butter melted to brush on top
Instructions
1
Preheat oven to 425. Add flour, baking powder, sugar and salt into a large mixing bowl. Cut butter into cubes and add to flour. Cut in until they resemble rough crumbs. I use a pastry blender, you can use forks or knives as well.
2
Add buttermilk and stir with a fork until it forms a rough ball (don't worry if it is a little sticky).
 ****mine has never come together to form any type of a ball**** Turn the dough out onto a floured surface.
3
Gentry shape it into a rough rectangle with rolling pin, about an inch thick. Fold it over and gently roll it down again. Repeat 4-5 times.
 Gently roll out the dough some more, so that it forms a rectangle. ****See all the butter in there? That's how your butter should look.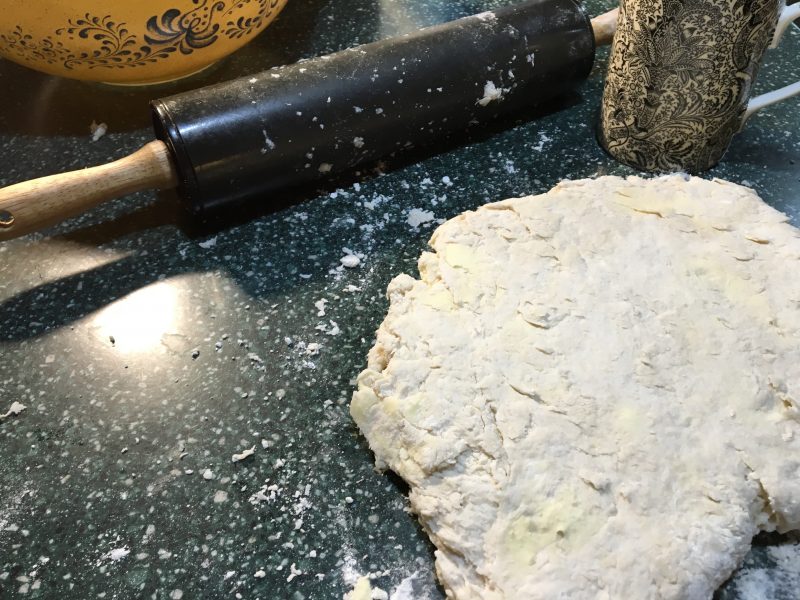 4
Cut dough into biscuits using a floured glass or biscuit cutter. Do not twist cutter when cutting; this will crimps the edges of the biscuit causing it not to rise. If you have scraps just reform a rectangle and cut additional biscuits.
 Only do this once as it will make them tough.
5
Place biscuits in a buttered (or PAM cooking spray) preheated 10" cast iron skillet.Make sure they are all touching each other, and place in oven. Bake until golden brown, approximately 15 minutes.
6
When they come out, brush on the melted butter and enjoy! Serve them in the Cast Iron Pan it will keep them warm at the table.
7
Wonderful with eggs!
Love Flips