Meat Sauce IP
This meat sauce is fantastic!! (The picture is terrible.)
After 10 minutes in the pressure cooker, you would say it simmered all afternoon! The thing I like best, besides the rich taste is there is no mess on the stove, no grease, or tomato splashes. The IP is deep enough, it all stays in the pot.
• 1 ⅔ pound (752g) ground beef
• 
4 cloves (10g) garlic , minced
• 
2 (328g) carrots , minced
• 
2 (105g) celery , minced
• 
1 (310g) large onion , minced
• 
1 can (28oz) crushed tomatoes
• 
1 tablespoon (15ml) olive oil
• 
2 bay leaves
• 
A pinch dried oregano
• 
A pinch dried basil
• 
A dash red wine or white wine
• 
Kosher salt and ground black pepper to taste
Umami Chicken Stock Mixture:
• 
1 cup (250ml) unsalted chicken stock
• 
3 tablespoons (49g) tomato paste
• 
2 tablespoons (30ml) regular soy sauce
• 
2 tablespoons (30ml) fish sauce (optional – can substitute with regular soy sauce)
• 
1 tablespoon (15ml) Worcestershire sauce
I browned the hamburger, crushed 5 cloves of garlic right at the end. Remove hamburger, put it in a bowl, keep juices with it. Sautee the carrots, celery, onions, add back the hamburger. Combine. Add a splash of red wine, make sure all the bits of off the bottom of IP. Add 2 (normal size) cans of cherry tomatoes (from Italy, really good!) Do not stir in, let the liquid go to the bottom. Add stock mixture. I didn't have fish sauce, used 1 tbsp soy sauce and 1 tbsp worcestershire sauce in place. Worked well. Pressure cook 10 minutes. Natural release 5 minutes, vent. Stir, it will thicken. I put the sautee on for about 5 minutes.
I made the lasagna roll ups by adding 1.5 containers ricotta cheese, 2 eggs, 1/2 cup parmesan cheese, parsley, salt and pepper.
Cook noodles for about 12 minutes.
Put ricotta mixture on noodles, then top with mozzarella cheese. Roll up and place seam side down. I used a frying pan to bake them in. Cover in meat sauce. (should cover the bottom with sauce first) top with mozzarella cheese. Bake for about 35 minutes, at 350, covered.
We added extra meat sauce on top. It's very filling! We didn't have room for pie. Well, Greg didn't. I did!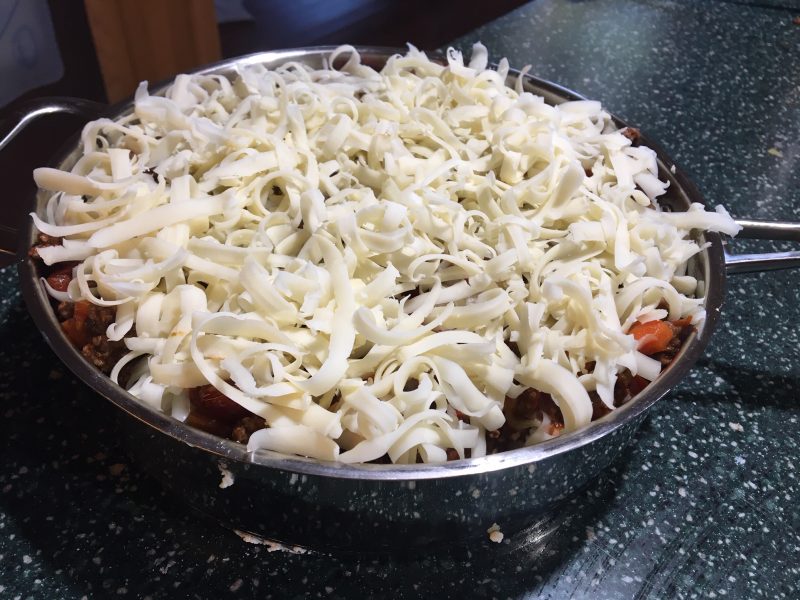 Love Flips