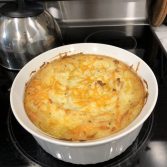 Creary Family Shepherd's Pie
This is Kristina's first recipe here, and I'm so happy! I hope it's the first of many, I happen to know first hand what a terrific chief she is! I love that her recipe was handed down by her mom Tracie Hodges… we're keeping it in the family here on LoveFlips!!
"This is by far Graham's favourite meal that I make! It's so simple. I love it too! My mom makes it, and I guess over the years I have tweaked it, but my mom taught me and taught me well! Well and the kids? Meh, not a favourite. Cooper isn't a potato fan, like what? And well Piper, she just grazes and doesn't love to try things. She's stubborn and has an "I do what I want" outlook…"
1 lb ground beef
1/2 a large onion, diced.
3 carrots, sliced
1 can cream corn
5 or 6 potatoes, peeled and cut
Butter
Garlic and herb cream cheese
Milk
Salt and pepper
Garlic
Heat oil in a large pan, soften onions with salt and pepper and garlic, add ground beef and cook through. Salt and pepper to taste. Extra garlic powder if you wish, a dash of cayenne pepper.
Boil potatoes until soft. Mash with salt and pepper to taste, butter, milk and cream cheese.
Boil carrots until tender and "slightly" mash them.
Add carrots and cream corn to beef mixture and mix. Taste… add seasonings if you need.
Put beef mixture into a casserole dish, top with mashed potatoes and a sprinkle of cheese if you wish!!
Bake at 350 until bubbly and golden. About 30 mins. Let rest for 5 minutes if you can… Graham does not have time to wait! Haha
Love Flips