Dutch Apple Pie with Sour Cream Custard
I was pretty mad when I was baking this pie and discovered the recipe (in a BOOK) had the wrong temperature stated in it!!??? How does that even happen? But now that I've eaten it, I'm simply MAD ABOUT THIS PIE!!!!
It's terrific. Somehow I managed to save it by re-baking it with the topping again and baking it for longer than stated for the custard the first go round. I'll try it again with the adjusted temperature and should have perfection on our hands then.
Try it, you'll love it!!
Dutch Apple Pie with Sour Cream Custard (recipe by Paula Haney from The Hoosier Mama Book of Pie)
1 single-crust blind baked All-Butter Pie Dough shell
2 cups apples, peeled, cored, and chopped into 1/2-inch pieces
1/2 cup plus 2 tablespoons granulated sugar
2 tablespoons all-purpose flour
1/8 teaspoon kosher salt
1 cup sour cream
1 large egg
1 teaspoon vanilla paste (feel free to sub extract)
1 recipe Walnut Streusel (follows)
Preheat the oven to 350°F. (NOTE**** her book is wrong it says 300)
Spread the apple pieces over the bottom of the pie shell. Place on a baking sheet and set aside.
Place the sugar, flour, and salt in a small bowl and whisk until well-combined.
Whisk together the sour cream, egg, and vanilla paste.
Add the dry ingredients and whisk until smooth. Pour into the prepared pie shell, over the apples. With a spatula, submerge any apples that float to the top.
Bake for 20-25 minutes, until the edge of the filling is slightly puffed and the center is dry to the touch.
While the pie bakes, prepare the Walnut Streusel.
When the pie is ready, gently scatter the streusel over the top of the pie and bake for 10 to 15 minutes more, until the streusel is crispy.
Cool to room temperature, then chill in the refrigerator for at least 1 hour before slicing.
Walnut Streusel (enough for one pie)
1 cup all-purpose flour
3/4 cup finely chopped walnuts
1/2 cup granulated sugar
1/2 cup firmly packed dark brown sugar
1 teaspoon ground cinnamon
pinch kosher salt
6 tablespoons unsalted butter, melted
Combine the flour, walnuts, granulated sugar, brown sugar, cinnamon, and salt in a medium bowl.
Pour in the melted butter and mix with your fingers (or a fork) until the mixture resembles coarse meal.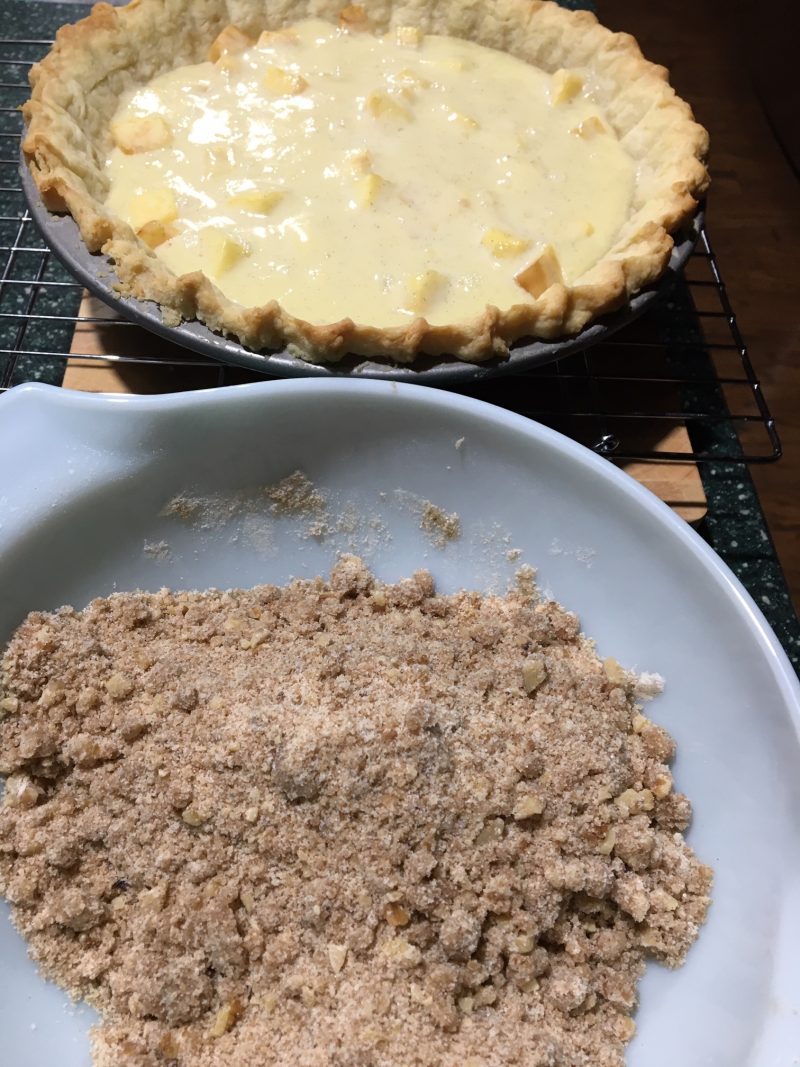 Pie Dough
I really like this pie crust. I've tried a LOT, this one is the winner for sweet and savoury pies.
allysbakingaddiction.com/baking-basics-homemade-buttery-flaky-pie-crust
Ingredients
2 and 1/2 cups (315g) all-purpose flour (spoon & leveled)
1 and 1/4 teaspoons salt
6 Tablespoons (90g) unsalted butter, chilled and cubed
3/4 cup (148g) vegetable shortening, chilled
1/2 cup (120ml) ice water
Instructions
Mix the flour and salt together in a large bowl. Add the butter and shortening.
Using a pastry cutter (the one I own) or two forks, cut the butter and shortening into the mixture until it resembles coarse meal (pea-sized bits with a few larger bits of fat is OK). A pastry cutter makes this step very easy and quick.
Measure 1/2 cup (120ml) of water in a cup. Add ice. Stir it around. From that, measure 1/2 cup (120ml) of water– since the ice has melted a bit. Drizzle the cold water in, 1 Tablespoon (15ml) at a time, and stir with a rubber spatula or wooden spoon after every Tablespoon (15ml) added. Do not add any more water than you need to. Stop adding water when the dough begins to form large clumps. I always use about 1/2 cup (120ml) of water and a little more in dry winter months (up to 3/4 cup).
Transfer the pie dough to a floured work surface. The dough should come together easily and should not feel overly sticky. Using floured hands, fold the dough into itself until the flour is fully incorporated into the fats. Form it into a ball. Divide dough in half. Flatten each half into 1-inch thick discs using your hands.
Wrap each tightly in plastic wrap. Refrigerate for at least 2 hours (and up to 5 days).
When rolling out the chilled pie dough discs to use in your pie, always use gentle force with your rolling pin. Start from the center of the disc and work your way out in all directions, turning the dough with your hands as you go. Visible specks of butter and fat in the dough are perfectly normal and expected!
Proceed with the pie per your recipe's instructions.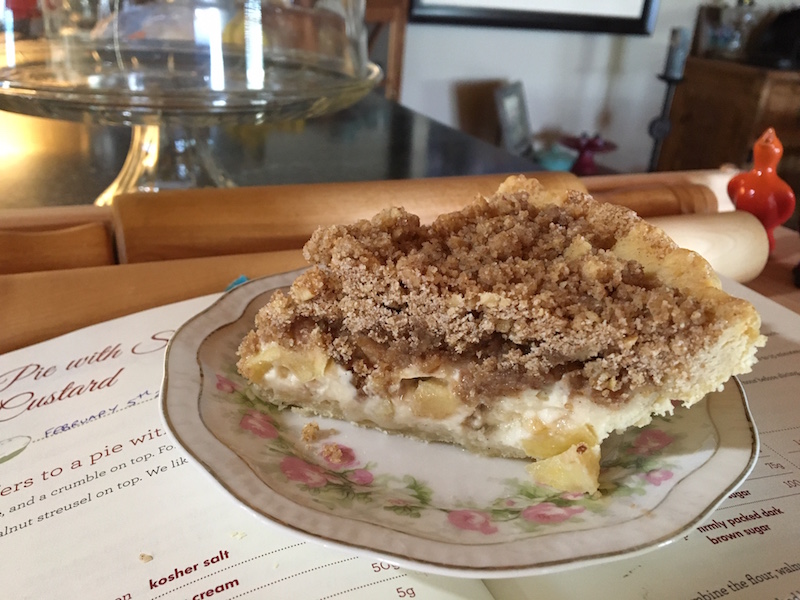 Love Flips