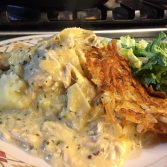 Chicken & Noodles = Total Comfort
I thought I'd slow roast the chicken in my clay baker this morning so I could use the chicken breasts for this recipe and the rest of the chicken for Chinese Fried Rice tomorrow!
Soak the clay baker in room temp water for about 30 minutes.
Put your chicken on parchment paper on the counter and season with course salt, cracked pepper, onion powder, garlic powder, sage and thyme.
Drain excess water off the the clay baker and add the chicken. No fats or water. You'll be amazed at how much juice is going to come off the chicken, (see picture below, 1 1/3 cups) and how much flavour your gravy will have it you make it for another recipe.
Put in the oven while it's warming up (so the temperature change doesn't crack the clay) at 275, and leave it in there for about 4 hours.
Remove from the oven, drain the juice into a saucepan. Put the chicken back in the empty clay baker and let stand about 15 minutes. Remove chicken, take the skin off and take all of the meat off.
Use the 2 breasts for this recipe.
Shred the chicken breasts, add 2 cans of cream of chicken soup. I only had one, so I used a can grandma had of cream of bacon soup. Don't add water.
Add 2 tsp dried parsley
1/2 tsp seasoned salt
1/4 tsp poultry seasoning
1/4 cup butter (sliced)
3 1/2 cups chicken broth. I used the juice from the chicken and the rest was chicken broth to make up the 3 1/2 cups.
Simmer for as long as you like. When your ready to serve put 5 ounces uncooked egg noodles into the chicken mixture.
Cook until noodles are tender about 10 minutes.
Can serve as it is or over mashed potatoes!! Enjoy! IN hindsight, next time I will do Dirty Mashed potatoes, it will bring more flavour. Mash potatoes, add cream cheese, butter, sour cream, garlic, milk or cream.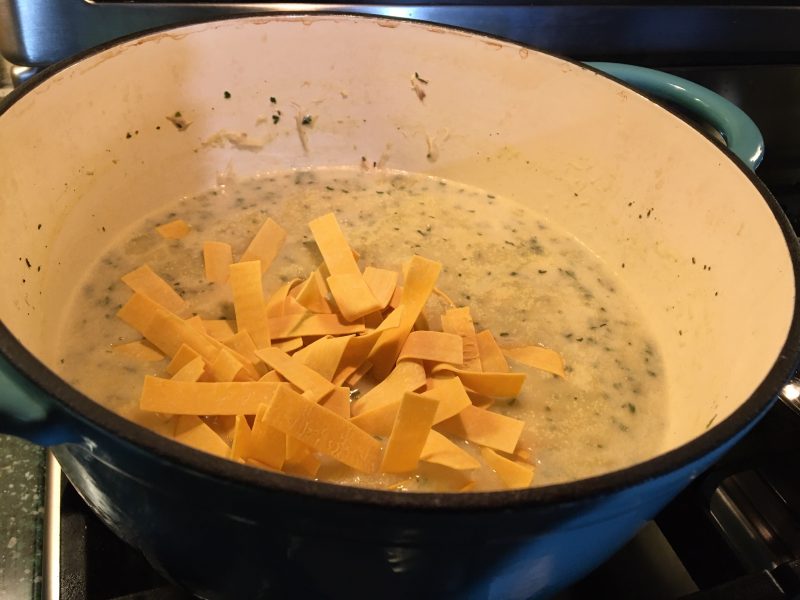 Love Flips