Greek Lemon Potatoes
These potatoes are AMAZING!! The lemon is the star.. along with the Greek oregano.. (it's truly all the way from Greece, it took forever to get here Amazon, but was worth it!!)
Okay, so these potatoes.. we loved them! Grandma was dipping them in her gravy, and was happy I said no thanks to the last one, as she gobbled it down! We had it with the Instant Pot roast beef and onion gravy. Together, they were this great flavour combination that just went POW in my mouth.
I'm never good at timing main and side dishes to be done at the same time, no exception here! So because I did the potatoes way too soon, once they were done cooking, I took them out of the pan with the sauce (saved the extra for tomorrows repeat of these potatoes…) put them on an oiled baking sheet and covered with Tinfoil. 20-25 minutes before the meat was ready, I put them in the oven at 425. I put them on broil the last few minutes.  So they don't have to be perfectly timed! That makes them my favourite new side dish.
• 1.2 kg / 2.5lb potatoes , starchy
• 
1 1/2 cups / 375 ml chicken stock/broth
• 
1/2 cup / 125 ml olive oil
• 
1/3 cup / 85 ml lemon juice
• 
5 garlic cloves , minced
• 
1 tbsp dried oregano
• 
2 tsp salt (Note 3)
• Preheat oven to 200C/390F (standard) or 180C/350F (fan).
• Peel potatoes and cut large ones into thick wedges – about 3cm / 1.2″ thick – and medium ones into 3 (see photo in post).
• Place in a roasting pan with all the other ingredients. Toss well.
• Roast for 20 minutes. Turn potatoes, roast for a further 25 to 30 minutes until the liquid is mostly absorbed by potatoes/evaporated and you're left with mainly oil in the pan.
• To crisp the potatoes (optional): Transfer potatoes to a separate tray. (Note 3) Tilt the original roasting pan and scoop off as much of the oil as you can (some juices is ok), then drizzle over the potatoes.
• Transfer potatoes to oven and roast for 20 – 25 minutes, turning once or twice, until potatoes are golden and a bit crispy.
• Return the pan with the garlic juices to the oven for the last 5 – 10 minutes or so to reduce down and make the garlic golden.
• Transfer potatoes to serving platter. Drizzle over the reduced garlic pan juices (or toss potatoes in the pan). Serve, garnished with lemon wedges and oregano if desired.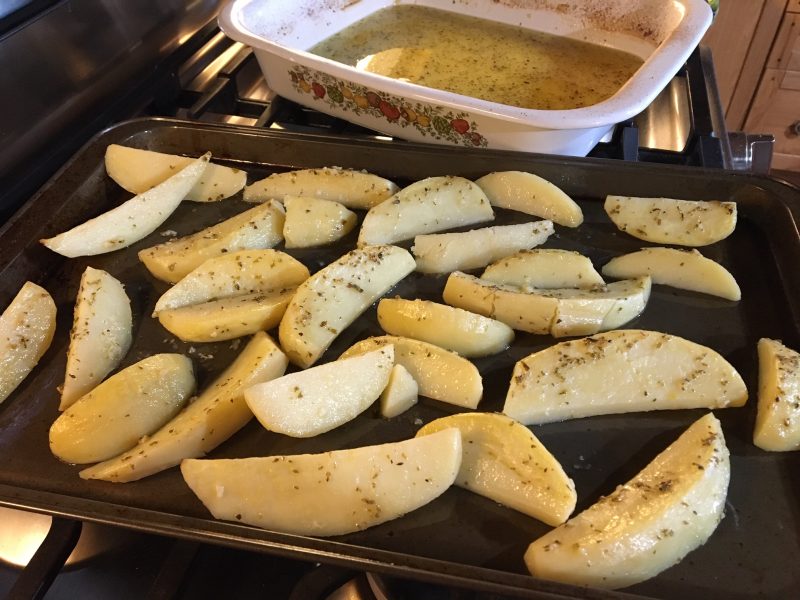 Thank you recipetineats.com
Love Flips