Whole Chicken IP
This instant pot cooking just keeps getting better and better. I love it! With all the cast iron I've collected, restored and have used for the last 3 years… I have to say, this IP is amazing, it gives great sear, great flavour, done in minutes and clean up is a snap. Tonight I tried a whole chicken. It took 27 minutes.. verses all afternoon in my clay baker, and it was better!! I'm sold.
3-5 pound whole chicken, giblets removed and discarded from cavity if applicable
6 tablespoons (1/2 stick) salted butter, melted
1/2 teaspoon paprika
1/2 teaspoon dried thyme
1/2 teaspoon dried or rubbed sage
1/2 teaspoon lemon pepper seasoning
2 teaspoons crushed or minced garlic
3/4 cup chicken or garlic broth (use 1 cup if using an 8-quart Instant Pot)
1 large carrot, diced (DIDN'T USE)
2 ribs of celery, sliced into 1/4" pieces (DIDN'T USE)
The Gravy
2 tablespoons cornstarch + 2 tablespoons water to form a slurry
1 tablespoon heavy cream or half & half (or even milk)
2 teaspoons lemon pepper seasoning (DID'T USE)
1 teaspoon dried or rubbed sage (DIDN'T USE)
****Instead I used 1 tbsp better than chicken boullion, and salt and pepper. 
I didn't follow his exact process.
I dried the chicken, and seasoned it with salt and pepper. Melt about 4 tbsp butter, add to the spices, and rub all over the chicken. I forgot to add the crushed garlic to the spices, so just rubbed the garlic on top after. It looks pretty gross, but trust me, this is going to make the most flavourful gravy!!
Add 2 cups chicken broth. Put the chicken on a trivet. In the sealing position, set on Pressure Cook for 27 minutes. My chicken was almost 4 pounds. I let it sit for 5 minutes. Turn off. Vent. Put on plate and tent with tin foil. Make the gravy!!
You'll be surprised at how much liquid is in there now! Press Saute. When it starts to bubble, add a slurry of 3 tbsp cornstarch and 3 tbsp water, mix well, pour in. Let it thicken. I had buttered cheese buns warming on my cast iron griddle (see I still work in the iron!!) chunk the chicken, add it to the gravy. Heat. Serve on the toasted cheese buns. SO GOOD!!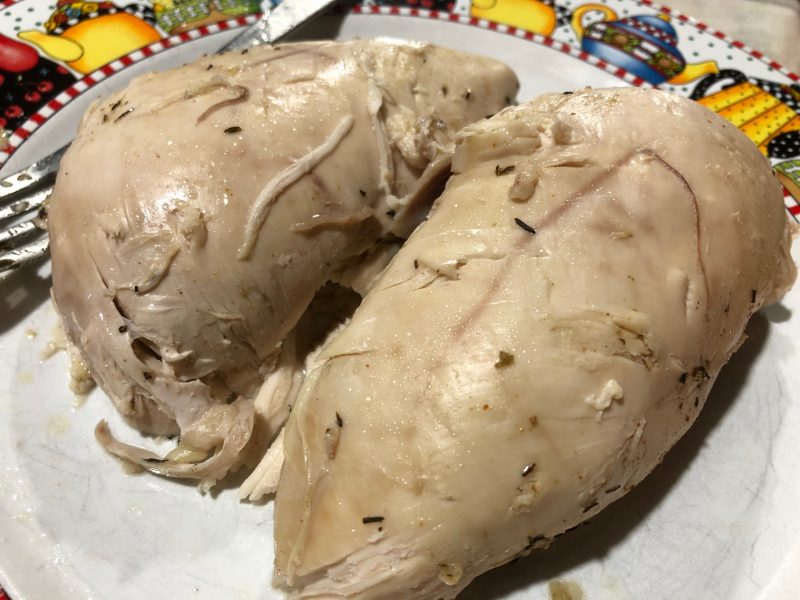 Love Flips