Homemade Bread
I've never made bread!! At least not that I recall… I used to go to Barrhead to paint with Gerry Kruse every Saturday, and she would make buns while we were painting the beautiful Swan Hills scenes. I wish i'd paid more attention to both of those wonderful opportunities with such a wonderful mentor. This bread must be no fail if I made it and had no idea what I was doing! Had it not been for Greg telling me my pans were too small for such a large load of dough, I'd have had a big mess on my hands. This my dear family is the reason I'm going to buy a third bread pan… though I really do like the buns in the cast iron skillet too!
Ingredients
2 packages active dry yeast
3 tablespoons sugar
2.5 cups warm water (110 degrees)
3 tablespoons Crisco shortening
2 teaspoons salt
6.5 cups flour
Instructions
1
In a large bowl, dissolve yeast and sugar in warm water. Stir in lard, salt and two cups of the flour. Stir in the remaining flour, 1/2 cup at a time, beating well after each addition. When the dough has pulled together, turn it out onto a lightly floured surface and knead until smooth and elastic, about 8 minutes.
2
Lightly oil a large bowl, place the dough in the bowl and turn to coat with oil. Cover with oiled saran wrap and let rise in a warm place until doubled in volume, about 1 hour. I turn my stove on to 200 when I'm making the bread, and then turn it off. Once my dough is ready to rise, the oven is a perfect warm spot for it to be.
3
Deflate the dough and turn it out onto a lightly floured surface. Divide the dough into two equal pieces and form into loaves. Place the loaves into two lightly greased 9x5 inch loaf pans. Cover the loaves with a damp cloth and let rise until doubled in volume, about 40 minutes. NOTE I used 2 8x3 inch pans and a 10 inch CI skillet with the excess as buns. I did use a damp cloth, the dough stuck to it!!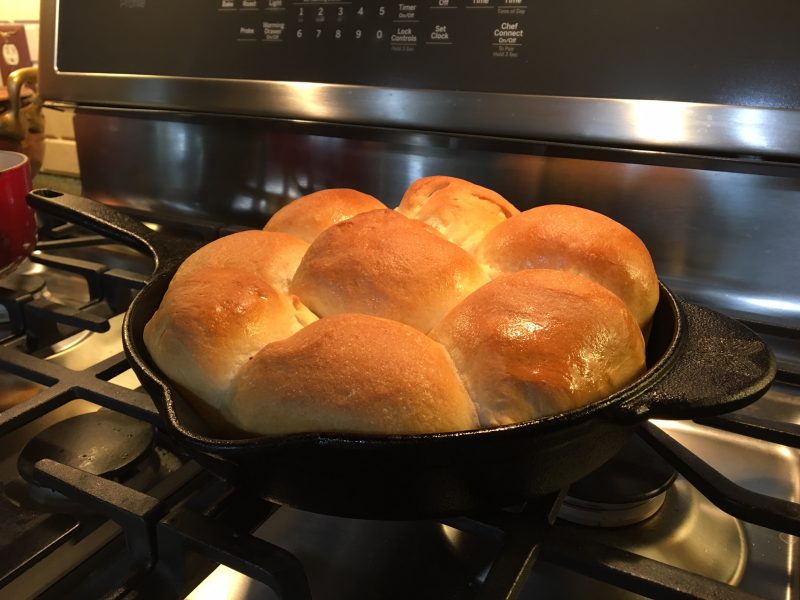 4
Preheat oven to 425 degrees F (220 degrees C).
5
Turn oven down to 375. My oven is about 15 degrees too hot, so I baked at 375 degrees F (190 degrees C) for about 15 minutes, and turned the oven down to 360 for the last 15 minutes. Took bread out of oven last minute of baking, brushed with melted butter, back in the oven for 3 minutes. .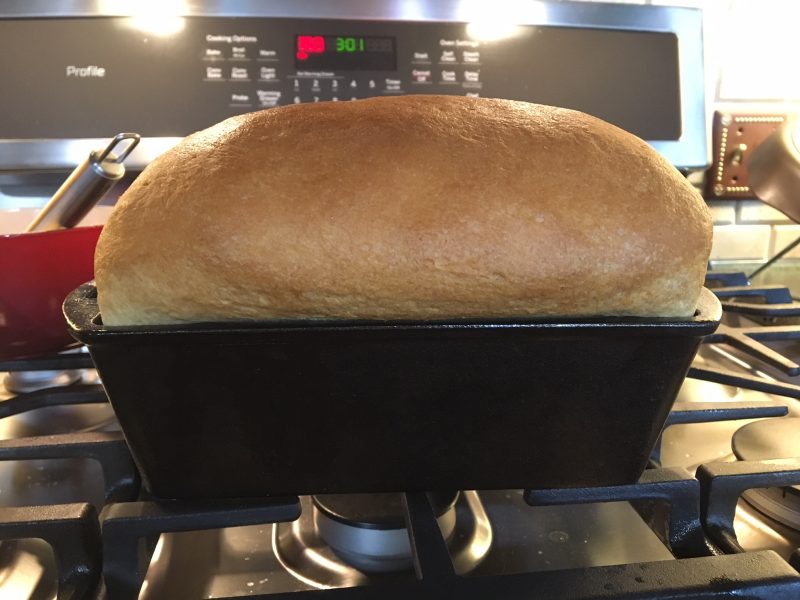 6
Remove from pans right away to cooling racks or they will get soggy. No one likes soggy bread!! You know bread is done when you tap top and bottom and sides and it sounds hollow. Cover in butter and watch your pant size go up accordingly.
Love Flips